Dear Customers,
the registration procedure starts today. As i promised, it is quite simple, have a look at the screen shot below.
You must have your pkey connected to your PC when you want to register!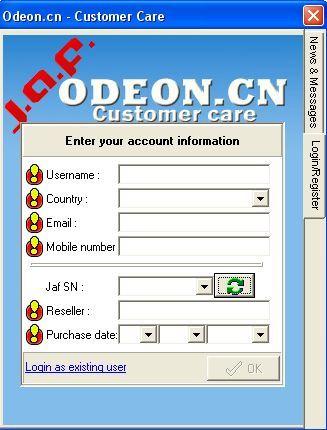 As you can see required information is:
- username (you can choose any you like)
- country (the country in which your are using your jaf)
- valid email adress (make sure it is the right email adress)
- valid mobile phone number (if the phone nr is not working, u can not recieve the account details, so make sure the number is valid)
- JAF serial number (the pkey must be inserted, the registration software read the serial number out of your pkey)
- name of reseller (this is very important to us, please do not write wrong information or jokes or "no reseller" otherwise the account will be closed and you have to provide a prove that the jaf box you have on hand is yours.
- date of purchase
You can download the software from here:
http://support.phone-tools.cn/files/JAF_customer_care.exe
You could find errors like:
- winscard.dll error
in this case you must search the file winscard.dll on your pc, pack it with zip or rar and attach it to your post in forum.
- problems with reading pkey serial
those problems will be solved by downloading always latest version of Odeon_customer_care software.
- problems to login (wrong user name and password)
we still must figure out wherefrom this errors are coming, we have til now just 2-3 customers facing this problem
- ip problems (using account from a different machine)
at the moment we are trying to solve this problem